Neemrana Real Estate: Factors to Consider Before Buying
Neemrana Real Estate: Factors to Consider Before Buying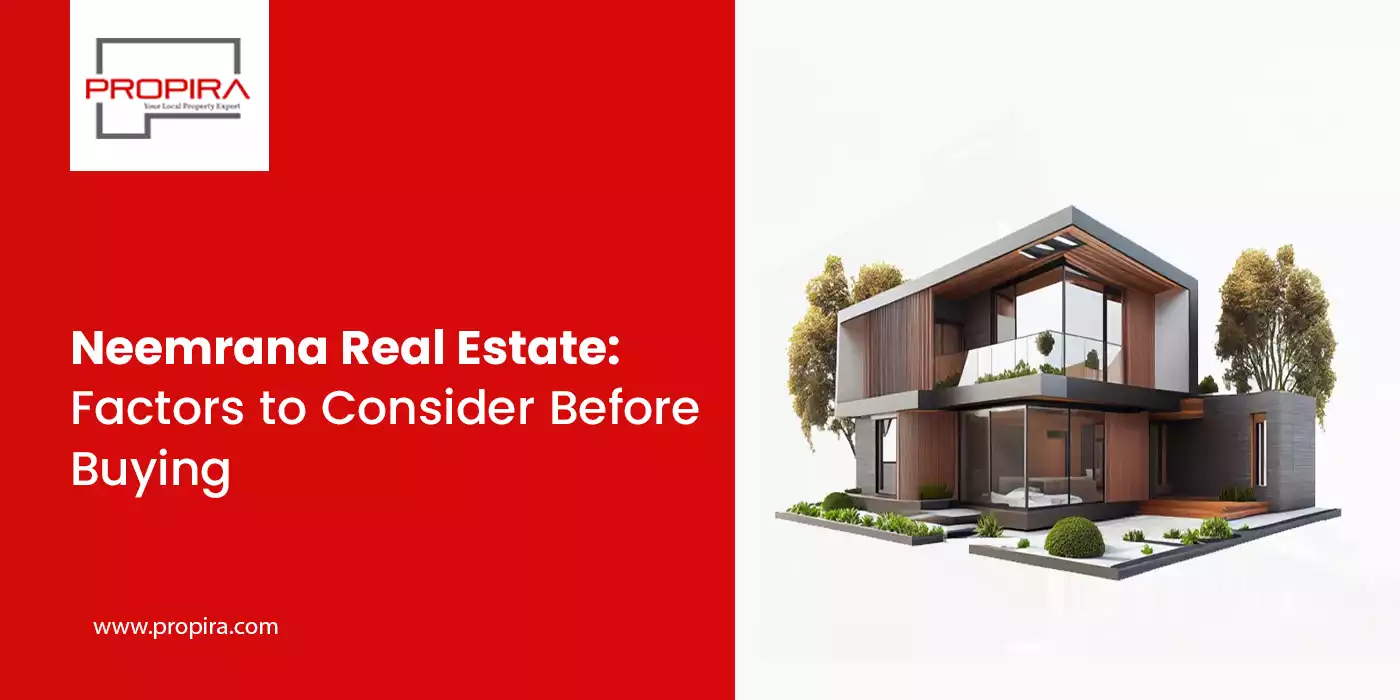 Neemrana, a historical town in India's Rajasthan, has recently emerged as a hotspot for property investors. The real estate scenario in Neemrana is booming, thanks to the city's robust economy, strategic location, and infrastructure development. However, just like any other investment, buying property in Neemrana requires a thorough understanding of various factors. This blog post aims to provide a comprehensive guide to help prospective investors navigate the Neemrana property market.
A Glimpse of Neemrana's History
Neemrana, known for its splendid fort-palace, has a rich history. It's a part of the Golden Triangle connecting Delhi, Jaipur, and Agra. In recent years, it has transformed from a sleepy historical town to a thriving industrial hub, leading to an upsurge in Neemrana property prices.

Economic Influence on Real Estate
Neemrana hosts various multinational corporations, creating a plethora of job opportunities. This economic boom directly impacts the real estate market, as increased employment enhances demand for housing. Thus, an investor needs to keep an eye on Neemrana's economic trends and growth trajectory.

Infrastructure: The Backbone of Growth
Infrastructure development plays a crucial role in Neemrana's property market. Major infrastructure projects like the Delhi-Mumbai Industrial Corridor (DMIC) significantly boost property prices. Prospective buyers should look into upcoming projects, as these would improve connectivity and amenities, thereby enhancing the value of their investments.
Government Policies: A Double-Edged Sword
Government initiatives such as the establishment of Special Economic Zones (SEZs) and Japanese Investment Zones in Neemrana have propelled the town's growth. These policies have made Neemrana an attractive option for both residential and commercial investments. However, investors should keep themselves updated with changing regulations that might impact their investments.

Demand and Supply: A Balancing Act
Understanding the current demand and supply scenario is vital in the Neemrana properties. A high demand with limited supply often leads to price escalation. Currently, due to the rapid urbanization and infrastructural development, Neemrana is experiencing a surge in demand for both residential and commercial properties.

Connectivity and Location: Prime Factors
Neemrana's connectivity to major cities like Delhi and Jaipur makes it an attractive location for investment. Its proximity to the international airport and major highways adds to its appeal. Thus, when choosing a Neemrana real estate platform or buying property, location should be a prime consideration.

Social Infrastructure: More than Just Bricks and Mortar
Availability of quality schools, hospitals, and recreational centers impacts Neemrana property prices. A property close to these amenities often fetches a higher value. Therefore, it's advisable to consider the surrounding social infrastructure before making an investment.

Neemrana Property Prices: A Close Look
Property prices in Neemrana have seen a steady rise over the past few years, making it a lucrative investment destination. However, the price varies based on location, amenities, and property type. A detailed analysis of pricing trends can help investors make informed decisions.

Legal and Environmental Factors
Before finalizing a Neemrana property buying deal, ensure all legal checks and clearances are in place. Additionally, consider environmental factors, like access to green spaces and pollution levels. These considerations not only ensure a hassle-free buying process but also impact long-term property value.

Investor's Guide
Before plunging into the property market, here are some tips:
Conduct thorough research: Understand the current market trends and future predictions.
Choose a reliable Neemrana real estate company: An experienced agency can provide valuable insights and help avoid pitfalls.
Consider the location and amenities: These factors significantly impact property prices and future value appreciation.

Conclusion
Neemrana, with its rapid economic and infrastructural development, is becoming an attractive real estate destination. However, understanding the intricacies of the property market is essential before making an investment. As an investor, it's prudent to examine Neemrana property prices, economic conditions, infrastructure development, government policies, and demand-supply dynamics to make an informed decision. By considering all these factors, you can ensure a successful and profitable property investment in Neemrana.