Impact Of Affordable Housing
Impact Of Affordable Housing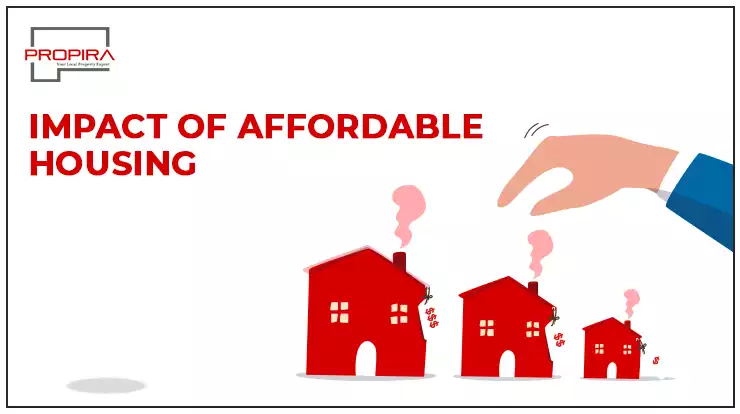 The right to property and the right to your own house has been a right of Indians for decades. But these rights have a great number of factors attached to them which in reality are not possible for most of the population of our country to achieve. Not all Indians stand on an equal footing when it comes to education, employment, wage scale, and growth. Throughout history, Indians have faced inequality when it comes to financial standing and ownership of property. Geographically speaking it is easier for people in rural areas to find a place to live because of the immense support of the communities in villages and the lower price of property and land. Also essentially those who live in interiors are those who have ancestral property or land which was usually kept for farming or agriculture.
With greater importance to city life due to industrialization and modernization, the people in rural areas began migrating to the cities in massive numbers. This began to affect the population and land rates in cities. The sudden boom of prices of property in cities was a major concern not only for individuals but also for the government. This sudden increase leads to the complete displacement of populations into slums. there was a great gap between the housing and unhoused population. With increasing rates of property directly proportionate to the increasing poverty in cities, especially major cities like Mumbai and Delhi, a state of tension had begun.
Real estate builders and developers only focused on developing luxury and middle-level real estate and properties due to the higher returns and that the land prices being very high and government blockages in building and construction activities increasing day by day. But due to this imbalance in demand and supply, the government introduced the concept of affordable housing. The government knew that the impact of the affordable property was the only beneficial solution to solve the problem of housing in our country.
Through various inclusions in the Budget, the government introduced certain reliefs for improvement and increase of affordable housing, a few of them being -:
Providing infrastructural standards and status to affordable housing
Increasing the period of completion for builders to support them in construction
Providing subsidized home loans and reduced EMI costs
Slum redevelopment into better houses and buildings along with Rs.1 lakh by the central government given for the building of each house to the planning authorities of the state.
Increased financial support to the builders for building and construction to increase private participation.
The introduction of various government policies such as Pradhan Mantri Awas Yojna helps affordable housing and provides support and financial help to the lower and middle-income class.
Here are a few impacts of affordable housing in India
Housing for all - This is one of the biggest impacts that is being created by affordable housing. Affordable housing has been the one-stop solution for governments to provide for housing to all through policies like Pradhan Mantri Yojna the government's aim was to provide housing for all.
Reduction in home loan rates for middle and low-income households - Home loan rates have significantly reduced due to the government partnering with banks to support middle and low-income households for affordable housings.
Reduction in EMI's - with the consideration of lower and middle-income populations increasing and home loans has reduced the rate of EMI has significantly. EMI is the biggest burden for a home loan borrower and therefore with the reduction of EMI rates, people can in time pay up their loans and this allows a lower financial burden on the banking and financial institutions along with great support to loan takers.
Reduction in slums - Major cities have upcoming and already existing slums as the biggest problem for many governments. The only way of dealing with the reduction of slums is by providing affordable housing.