Complete Details About Pradhan Mantri Awas Yojana (Pmay)
Complete Details About Pradhan Mantri Awas Yojana (Pmay)
Complete Details About Pradhan Mantri Awas Yojana (Pmay)
Introduction
Every individual has a dream of owning a house. However, a substantial number of Indians in urban and rural regions continue to remain without shelter. The Union Government of India with an aim to provide shelter to the deprived sections of Indian society alleviate their suffering has introduced the Pradhan Mantri Awas Yojana (PMAY).
What is PMAY Scheme?
Pradhan Mantri Awas Yojana (PMAY) is an initiative of the Indian government that was inaugurated on 25 June 2015, seven years ago. The Programme was initiated with the common objective of 'Housing for All by 2022'.
Targets
The goal is to create 2 crore (20 million) affordable residences for the urban poor by March 31, 2022, when the nation will be celebrating its 75th anniversary of independence. This programme is being administered by the Ministry of Housing and Urban Development (MoHUA).
The government has approved an investment of 43,922 crore (US$5.5 billion) that also includes an aid of 10,050 crore (US$1.3 billion). For the construction of 6,83,724 homes/dwellings for urban poor(for rural areas separate scheme is run as PMAY(G)
Types of PMAY
Depending upon location where the subsidy is being offered, the Pradhan Mantri Awas Yojana is divided into two primary types: Pradhan Mantri Awas Yojana-Urban (PMAY-U) and Pradhan Mantri Awas Yojana-Gramin (PMAY-G) .
Let us learn about them in short to get an overall idea of how they are different from each other.
Pradhan Mantri Awas Yojana-Urban (PMAY-U)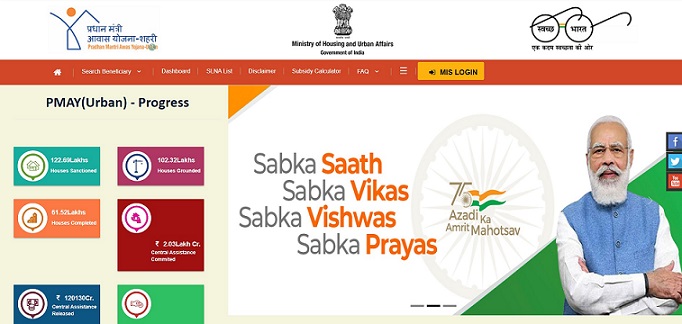 Launched on June 25, 2015, the Pradhan Mantri Awas Yojana (Urban) Mission aims to provide homes for everybody in urban areas by 2022.
According to PMAY (U) standards, the carpet area of a house for Economically Weak Section (EWS) might be up to 30 square meters; however, the respective States/UTs have the freedom to increase the size of dwellings with the Ministry's consultation and consent.
Making a Social Shift
In continuation with the government's attempts to empower women from EWS and LIG, and in contrast to past programmes, PMAY (U) stipulates that the female head of the household must be the owner or co-owner of the home in order to qualify for a loan.
The Mission provides about 1.12 billion rupees as Centre/Union Assistance to the implementing agencies via States/Union Territories (UTs) and Central Nodal Agencies (CNAs) in order to deliver dwellings to all eligible families/beneficiaries against the verified demand for housing.
Pradhan Mantri Awas Yojana-Gramin (PMAY-G)
By2024, PMAY-G (For Gramin) aspires to provide a pucca(brick mortar) house with basic facilities to every houseless individuals residing in a kutcha or decrepit dwelling.
Promoting Social Welfare
It is a social welfare programme through which the government aims to give financial aid to homeless individuals recognized by SECC (Social Economic and Caste Census),2011 statistics in order to assist them in constructing a dwelling of decent quality for their own residential use.
Costing Formula
In this scheme, the cost of unit aid is split in a ratio as follows:
60:40

between the Central and State governments in plain areas and

90:10

in the North Eastern and Himalayan states.
Working Model
The plan calls for the training of Rural Masons in order to improve the craftsmanship and quality of home building, as well as to increase the availability of competent masons and improve the employability of such masons.
The expansion of the PMAY-G will facilitate the construction of the remaining 155.75 million homes. It will assist in achieving the goal of 2.95 crore pucca dwellings.
Features and Benefits of Pradhan Mantri Awas Yojana (PMAY)
Pradhan Mantri Awas Yojana has some unique features and multiple benefits. Let us explore them:
It will address the urban housing deficiency among the urban poor, especially slum dwellers, by providing a pucca home to qualified urban poor.
The Mission encompasses the entire urban area, including

Statutory Towns

,

Notified Planning Areas

,

Development Authorities

,

Special Area Development Authorities

, and

Industrial Development Authorities

, as well as any other authority vested with urban planning and regulation responsibilities under state law.
All PMAY (U) homes are equipped with basic facilities toilet, water supply, electricity, and kitchen.
Pradhan Mantri Awas Yojana emphasises

the empowerment of women

by granting female members sole or joint ownership of homes.
Preference is also given to those with disabilities, older citizens, SCs, STs, OBCs, Minorities, single women, transgender individuals, and other vulnerable and weaker segments of society.
The federal government and the states split the cost of the homes built under the programme.
PMAY has two Components: Pradhan Mantri Awas Yojana (Urban) and Pradhan Mantri Awas Yojana (Rural).
Mission will be carried out as a Centrally Sponsored Scheme (CSS), with the exception of the credit-linked subsidy component, which will be carried out as a Central Sector Scheme.
Important Facts about Pradhan Mantri Awas Yojana 2022
| | |
| --- | --- |
| Scheme Name | PM Awas Yojana |
| Country | India |
| Ministry | Ministry of Housing and Urban Poverty Alleviation |
| Launched Date | 25 June 2015 |
| Launched By | Mr. Narendra Modi , Prime Minister of India |
| Status | Active |
| Website | |
| Beneficiary | Indian Urban Citizen |
| Objective | To render permanent dwellings to each beneficiary |
| Benefit | House for all |
| Category | Central Government Scheme |
| Mode of downloading list | Online |
Pradhan Mantri Awas Yojana: Eligibility
For the Pradhan Mantri Awas Yojana (PMAY), the following groups are eligible:
1. Beneficiaries should not be older than seventy years old.
2. The income limit for various qualifying categories is as follows:
• Economically Weaker Section (EWS) – 3 lakhs per year
• LIG (Low Income Group) Family - 6 Lakhs annually
• Middle Income Group -(MIG-I) - 6 to 12 lakhs annually
• Middle Income Group - (MIG-II) 12 to 18 lakhs annually
3. Individuals engaged in the programme may not own a home in any area of India in the name of a family member.
4. The individual qualified to apply for a loan must not have received any central or state government subsidies or assistance in purchasing a property under the plan under discussion.
5. The loan applicant must not own a home or property alone or jointly with family members.
6. Only Economically Weak Sections and Low-Income Group classes would be eligible for financing for home reconstruction and self-construction.
7. Under this plan, the residences that would be distributed would be held by women or couples together.
How to Apply for PMAY Scheme
Online:
Step 1: Determine the PMAY category under which you qualify.
Step 2: Visit the official website at http://pmaymis.gov.in
Step 3: Click 'Citizen Assessment' from the main menu and pick the applicant category.
Step 4: You will be led to a new page where you will be required to input your Aadhaar information.
Step 5: Fill out the online PMAY application with your personal information, income information, bank account information, and current address.
Step 6: Enter the captcha code, check for accuracy, and submit the form.
Offline:
If you are unable to submit your application online, PMAY also accepts paper applications. Simply visit a Common Service centre run by the state government and fill out the application form.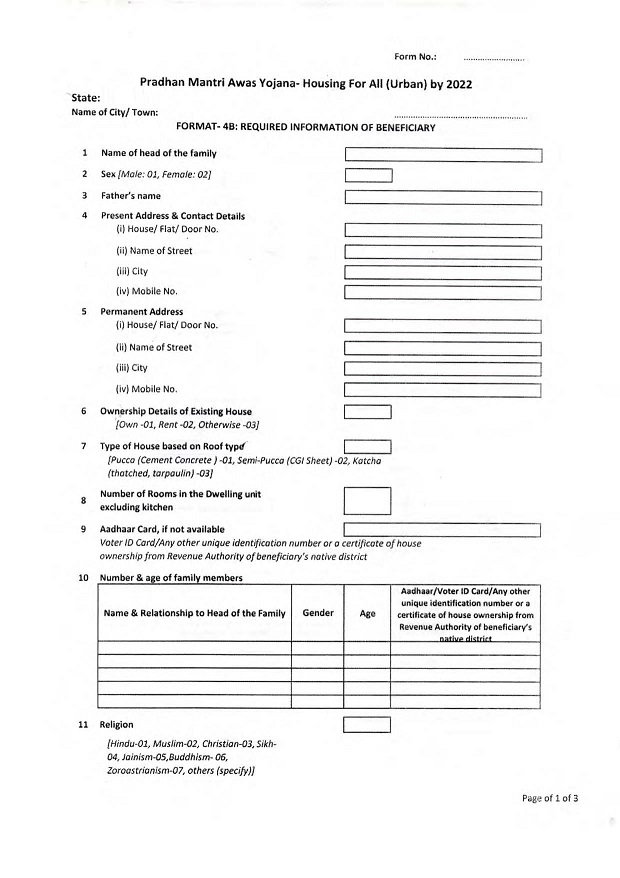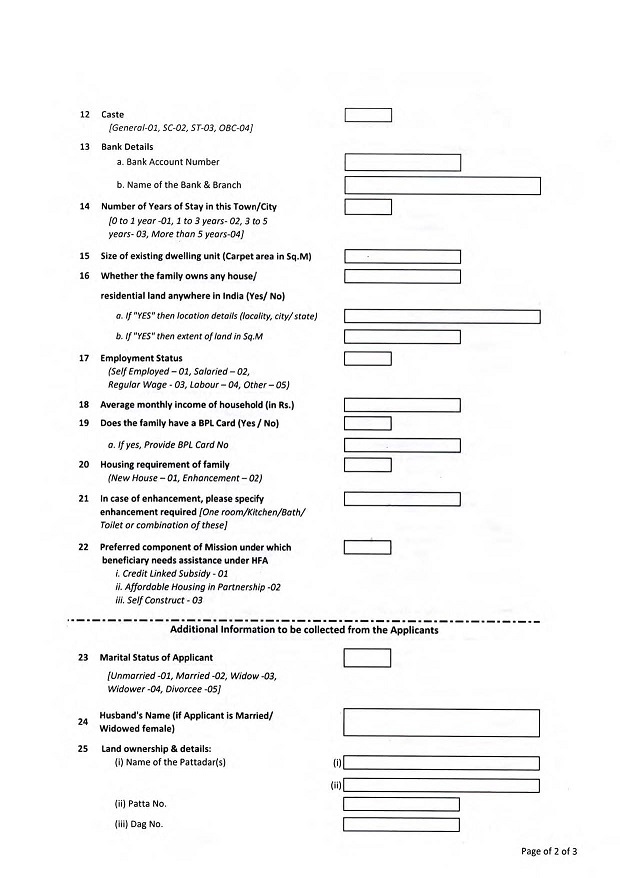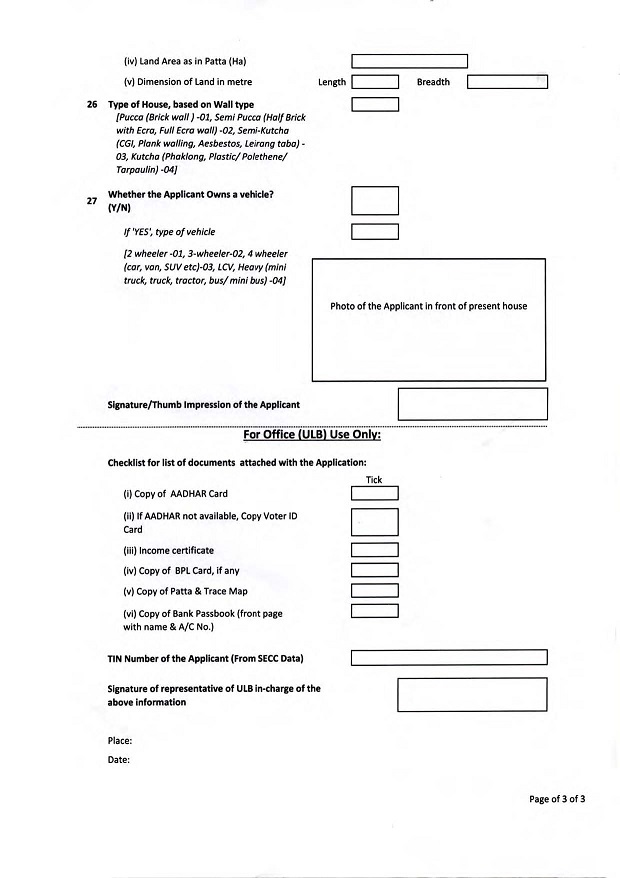 Download From Here
Conclusion

We hope you will learn about the Pradhan Mantri Awas Yojana (Pmay) from the information provided in this blog. Propira is a knowledgeable real estate consultant who deals with flats in Alwar, Rajasthan.
If you want to learn more about the Property Tax in Rajasthan, then you can get in touch with us by requesting a call back from our team.