Udaipur vs Ajmer - Which City Should You Live and Invest In
Udaipur vs Ajmer - Which City Should You Live and Invest In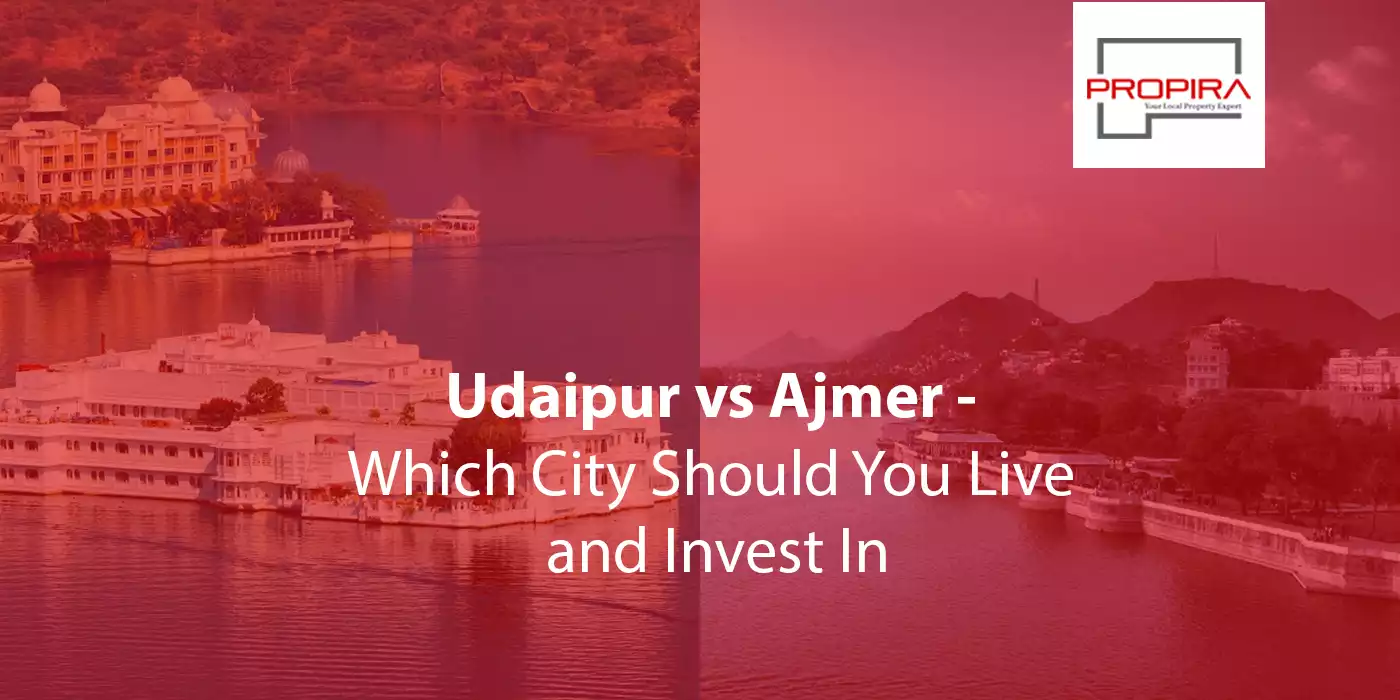 When it comes to choosing a city for living and investing, Udaipur and Ajmer are two prominent contenders in Rajasthan, India. Both cities have their unique charm and offerings, making them attractive options for property investment and residency. In this blog, we'll delve into the key factors that can help you make an informed decision between Udaipur and Ajmer.
Location and Connectivity:

Udaipur:
Known as the "City of Lakes," Udaipur boasts picturesque lakes and palaces that attract tourists and investors alike. The city's excellent connectivity through highways and an airport makes it a prime choice for those seeking accessibility.

Ajmer:
Famous for the Ajmer Sharif Dargah and its historical significance, Ajmer is well-connected by road and rail. Its proximity to Jaipur, the state capital, adds to its appeal.
Economic Opportunities:

Udaipur:
The tourism industry significantly contributes to Udaipur's economy, ensuring a steady stream of income for property owners investing in hospitality-related ventures. The city's growth in IT and education sectors also brings forth opportunities.

Ajmer:
While Ajmer also sees its share of tourism, it's recognized as an educational hub with various schools, colleges, and universities. The presence of an expanding education sector can attract real estate investors looking to cater to student accommodations.
Cultural Heritage and Lifestyle:

Udaipur:
Udaipur's regal heritage is visible in its magnificent palaces, museums, and traditional markets. The city's focus on preserving its cultural identity makes it an alluring destination for those who appreciate history and aesthetics.

Ajmer:
Ajmer's rich history and religious significance lend it a unique cultural tapestry. The blend of traditional and modern aspects in lifestyle can appeal to individuals seeking a diverse experience.
Property Market:

Udaipur:
The property market in Udaipur, particularly around its lakes and heritage sites, can be competitive. Property values might be comparatively higher due to the city's popularity among tourists and investors.
n
Ajmer:
Ajmer offers a more affordable real estate market, making it attractive for first-time buyers and investors looking for budget-friendly opportunities. The potential for appreciation in property value is also present as the city continues to develop.
Quality of Life:

Udaipur:
The serene lakes, green landscapes, and relatively cleaner air contribute to a higher quality of life in Udaipur. The city's focus on tourism infrastructure enhances the overall living experience.

Ajmer:
Ajmer's slightly lower population density and quieter atmosphere can be appealing to individuals seeking a more peaceful lifestyle away from the bustling city life.
Conclusion:

Both Udaipur and Ajmer have their unique selling points that cater to different preferences and investment goals. Udaipur's grandeur, heritage, and thriving tourism industry make it an attractive option for upscale investors and those who prioritize a luxurious lifestyle. On the other hand, Ajmer's affordability, growing education sector, and cultural significance make it a promising choice for budget-conscious investors and individuals seeking a mix of tradition and modernity. Ultimately, the decision between the two cities depends on your personal preferences, investment strategy, and long-term goals. Whether you're drawn to Udaipur's royal charm or Ajmer's diverse offerings, both cities offer a slice of Rajasthan's rich cultural heritage and potential for growth in the real estate market.