Top 5 Tips for Buying Home - Budget Tips
Top 5 Tips for Buying Home - Budget Tips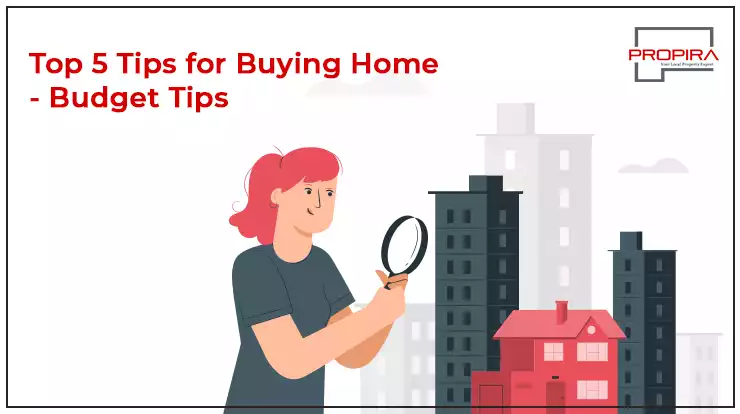 Roti, Kapda, and Makaan.
Both food and attire are feasible, yet a house is a far off dream and hard to have. In Major cities like Delhi and Mumbai buying a house is a rare dream. Not all dream about it. But a few do, and they do it very calculably. In India, buying a house is seen as a sense of honour and pride. Buying a house is attached to the financial vein of people and the emotional side.
Therefore buying a house has consistently been a fundamental component in the existence of Indian's not normal for abroad where the idea of claiming a house is presently old school.
The entire process of buying a house requires a great amount of financial support indeed. But not only should your finances be strong, but your overall sense of the process of buying, the steps before it and the steps after it are to be considered. Buying a house is equivalent to the process of planning your career or life. Every person who believes in buying a house first checks his or her position to do so. You've been waiting your entire life to buy a house, and you do not want to waste your entire life savings without thinking it through. Having a budget, assessing it, and finalizing it are the three general steps to what you should do for buying a house.
Tips for Buying Home Under Budget
Every home buying tip would prescribe you to save and invest. Well, here are a few tips which are important but not very often mentioned.
Set your budget in your limit
You are the only one aware of your finances. You know how much you can spend and how much you can afford. Plan your spending as per your finances and nothing else.
You have earned and earned and saved but have spent each penny in your house, not only buying the house but furnishing it and improving it. Furnish within your budget. Focus on whether, after buying your house, you will live an economical life as per your standard of living.
It is essential to know that a house cannot be bought in one shot or at a temporary whim or fancy of anyone. Buying a house is a decision taken over the years and needs a good time to speculate.
The biggest house buying tip is not to let others get to you. Your decision and ideas on your position and finances are only known to you. Others are not aware of your exact condition. Do not let people advise you into decisions that you cannot take by yourself.
Options vary in different factors such as -:
Area/locality- In India, real estate costs differ from place to place. Areas around major cities are much more expensive than the interiors of rural India. Purchasing a house in metropolitan urban areas requires a tremendous spending plan. In any event, purchasing a house in and around metropolitan urban areas has now raised costs. Subsequently, select the region according to your financial plan.
How big a house do you need- Asking yourself this question is essential as it requires speculation. If your family requires limited space, buying a house with three rooms or more is maybe not the right thing to do. Instead of investing in a limited space but more comfort would be better.
Those were a few house buying tips that may come in handy for you before buying a house.