Top 5 Best Residential Localities to Live in Bhiwadi
Top 5 Best Residential Localities to Live in Bhiwadi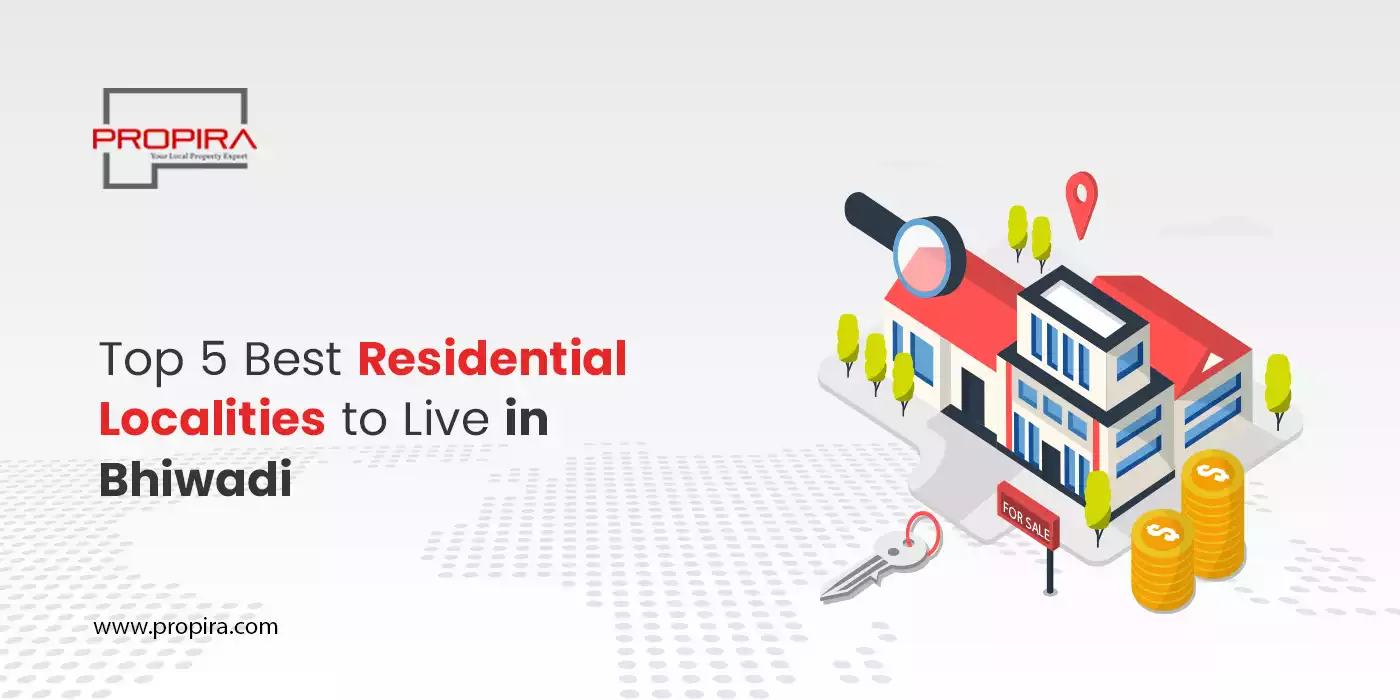 Bhiwadi is a shining gem of Rajasthan; with modern infrastructure and all lifestyle amenities, it has attracted much attention from developers and investors. Bhiwadi Properties is one of the fastest growing and modernizing cities with all the comforts of a modern lifestyle. Bhiwadi has many renowned developers and investors who have launched well-received projects. In such a situation, this place holds a prominent position in the real estate sector. Apart from all these urban amenities, affordable housing is available. Though the home is located near Gurgaon and Delhi, the difference in property prices is quite reasonable.

Below are some reasons why Bhiwadi Properties is excellent for a better lifestyle. Here's why:
Ideal location to build your dream home, close to major cities
Delhi NCR's best and biggest builder developing similar mega residential projects in Delhi NCR at affordable prices
Availability of all amenities
Green and calm environment
Increased employment opportunities as most businesses increasingly move away from subways
As Bhiwadi is a developing city, it will become one of the most promising real estate locations in the next 5-10 years.
Check below the top residential Localities to Live in Bhiwadi.
Alwar Road
Bhiwadi Alwar Road is a well-known area of rapidly developing Bhiwadi. This area offers all the essential and basic amenities required for a healthy and enjoyable life. The site has excellent transport connectivity and is easily accessible by public transport and buses. ATMs, banks, schools, and hospitals are also available in this crucial area of Bhiwadi. Bhiwadi Alwar Road is an important area of Bhiwadi, and you can get Properties for rent in Bhiwadi with a perfect environment.
Bhiwadi Alwar Road District is the largest district of Bhiwadi City, and also it is situated away from the hustle and bustle of the city, which makes it a good place for people to visit. The area is 20 km from Jaipur-Dahra Highway and 55 km from Gurgaon. The area is also known as Escalating Gurgaon due to the large-scale development taking place in the area.
Chopanqui Industrial Area
Chopanki Industrial Area is also considered one of the most essential areas in Bhiwadi. This area is regarded as a significant factor in establishing Bhiwadi as the industrial center of Rajasthan. Major malls in the area include Reliance Mall, Genius Mall, V Square Mall, Big Bazaar, and Haldiram. Some of the most popular schools in the Alwar district, such as UCSKM, Delhi Public Boarding School, and MPS, are located in Chopanki Industrial Area. The area is connected by a 60-meter-wide road to Alwar, Dhalhera, and National Highway 8 and is considered India's most prominent industrial center. If you have the Property for sale in Bhiwadi, it will return the maximum profit.

Kamtogal
Kamtogal is a new project of luxury apartments and flats for the people in Bhiwadi City. For those with a limited budget for real estate investment, it is the best option and very profitable for the future because Kamtogal is an area where developers and builders are developing commercial and residential projects with all the luxury facilities for the people. All major construction companies have invested in the Kamtogal area.
Industrial development is moving forward day by day along with the world's big companies. People need to live in cities. Many people work for these companies and want to live nearby to invest in the best real estate in Kamtogal.
Here are several newly launched Kamtogal projects by leading builders. They invest in areas for the construction of buildings for residential and commercial purposes. So there is no doubt that Buying a property in Bhiwadi City is the best option for residential or commercial real estate investment. This city will become a trendy city in a few days.

Kushkela
Kushkela is surrounded by almost all the amenities of the city: industries, excellent convent schools, hospitals, and banks. Kushkela has become one of the Tier 2 cities which attracts well-resourced people willing to make genuine investments.
Kushkela is a few kilometers away from the central city. It is an essential factor that increases the value of the land daily. Kushkela's best and biggest builders have the city's future in mind and are building high-rise apartment buildings all over the city, especially near Alwar Bypass Road. People are also interested in House Rent in Bhiwadi. The reason is that they are tired of the hustle and bustle of big cities and want to live in a calm environment. Also, people with tight budgets and those who aspire to own a home can find similar flats and apartments in smaller cities at affordable prices compared to bigger cities like Delhi, Jaipur, and Gurgaon. Propira and many other builders are working in this direction. Small towns have also become a hotspot for people increasingly relocating their offices to metro suburbs.
Neemrana
Neemrana is focused on creating a vibrant regional economic base with state-of-the-art facilities and a globally competitive workforce. It helps revitalize local commerce and boost foreign investment and real estate cash flow while achieving sustainable growth. Investment benefits, low real estate interest rates, and valuation potential are some of the obvious reasons to invest in Neemrana. Here, economic, infrastructure, and real estate development go hand in hand. Competing forces are the availability of electricity, the vast and contiguous land plots and parcels, and the cost of land. These are necessary conditions for any industry.
Check if your chosen developer is legally licensed when looking for a home. Additionally, many land dealers work with neighbors and promoters to adhere to particular standards and models. Propira will be your sole guide while buying a property in Bhiwadi. These professionals have a wealth of knowledge and experience to give you the best and most intelligent guidance to make your land business viable. Hence, choosing the right seller or executor is crucial in real estate transactions. Your home is a huge undertaking, so consider enlisting the help of someone who understands your needs, is familiar with the local land market, and can provide the best advice you need.

Conclusion
Propira has been a leading property builder and the market leader for the last few years. Propira focuses on making a name for itself in terms of the qualitative results they provide to all the investors and end-users on each project of Bhiwadi. The company has knowledgeable engineers and experienced professionals who aim to create the best possible architecture. Looking at the increasing demand for real estate in the NCR region, the project of Bhiwadi envisions making a name for itself in the real estate industry by creating hi-tech projects that cater to the needs of the end-users.