Top 12 Vaastu Tips for New House Construction - Propira
Top 12 Vaastu Tips for New House Construction - Propira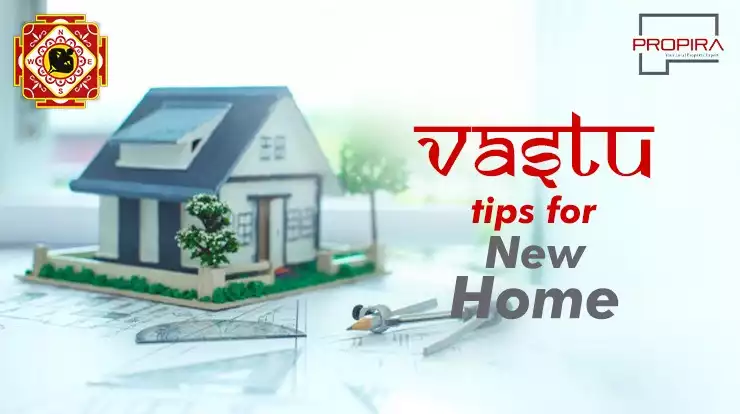 Overview
The Science of Architecture or popularly known as Vastu Shastra has been used in India for centuries to prepare a construction site, its design, and decide on a house's spatial arrangement. This science mainly focuses on keeping the proper quantity of energy in the house and bringing serenity, wealth, and good fortune into the home.
Vaastu is concerned not only with the position, layout, and orientation of each space but also with the most appropriate use of colors and ornamental elements.
This article talks about 12 Vaastu tips for new home/house construction. So, read on to understand more in-depth about Vaastu for a house in the following piece.
Origin of Vaastu Shastra
The origin of the ancient science of building and construction i…e Vaastu Shastra, may be traced back to the Atharvaveda. Vaastu Shastra is a set of architectural ideas including everything from design to layout, from dimension, to ground preparation, from space organization to spatial geometry, and a lot more.
All these ideals are subsequently used in the construction of structures varying from residential buildings to commercial paces. It's not surprising the principles of Vaastu can be found in old buildings and monuments, indicating how seriously our forefathers took this discipline.
Vaastu Shastra is now widely practiced all over the world. It is because of the universal desire for peace and harmony, which Vaastu Shastra is meant to provide, along with assured good health, riches, and pleasure in life.
Importance of Vaastu Shastra
Although, It was originally meant to be used for temples. Over time, people began employing Vaastu principles in the construction of their houses, and after seeing how effective it was, the use of " Vaastu shastra" was expanded for the construction of offices, hospitals, factories, schools, and universities.
Today, this distinct yet fundamental understanding of directions and elements is used in the construction of automobiles, gardens, agricultural fields, and, strangely, even business cards.
Benefits of Vaastu Shastra
Vaastu Shastra offers many benefits. Thousands of publications on the subject have been produced to date, and now it has been accepted as an integral part of the curriculum designed by modern architecture and construction schools.
The most important benefit is that It helps bridge the gap to strike a fine balance between quality of life and the physical environment. This realization has sparked a revolution in the architecture industry.
As a result of which, an increasing number of people desire vastu-adhered homes, prompting modern architects and developers to incorporate this ancient science into their designs.
The Basic Principles Of Vaastu for House
In today's world, Vaastu Shastra is similar to that which was used in the past. However, its methodology has been modified to accommodate the needs of current trends. The two primary components of the revised Vaastu are as follows:
Forms of buildings
The directions of a building
The core notion of modern-day Vaastu-compliant architectural architecture, which has been inherited from the Vedic sutras, remains the same.
Also read - Top Reasons and Ways to Invest in Real Estate | Propira
12 Vastu Tips to Consider Before Building a House
Now that you've learned about Vastu's origins, relevance, and advantages, we'll walk you through a few key points to bear in mind when you construct your home. These fundamental ideas will assist you in creating a tranquil and pleasant home where you will always have the finest of everything.
Shape Of The Room
According to Vaastu Shastra, there are a few things to consider while constructing a new house coming to the Shape of Rooms. They are:
Residential constructions must have

rectangular or square rooms

.

Avoid purchasing a home or apartment with rooms that are irregularly formed, such as I-shaped.

The length of a rectangular residential house should ideally be no more than twice the width

.
Northern Corner
The northern corner of the house should be reserved for your washrooms, pools, ponds, and even a RO water filtration system. This will ensure that the economy continues to grow at a stable pace.
Note- If you don't have a true northern corner, try the northeast.
Cactus and Prickly Plants should Never be Grown
As per Vastu, growing certain plants at home is prohibited and some are promoted. It is believed that they can increase positivity and bring in a lot of pleasant energy.
By planting

money plants

and a broad range of flowering plants.

Tulsi (basil) is the greatest plant to have in your home, preferably at the front.

Cactus and prickly plants should be forbidden in Vastu for residential structures. The rose plant, however, is an exception that you may always grow in your home.
Optimal Airflow
You must live in a well-ventilated dwelling. There should be good air movement and plenty of sunshine. The dismal, dark rooms would appear stagnant, dreary, and a negative hotspot.
You should also never leave any portion of your home alone or locked for an extended period of time.
A Big "NO" to Damaged Mirrors
A cracked or shattered mirror should never be kept in the house. Also, keep an eye out for any cracking windows or doors, as well as any leaking taps. Maintain a clean appearance for your windows and doors.
Keep Out Negative Artworks or Photographs
You should never put a painting or artwork in your home that draws negativity. Never hang artworks depicting crime, conflict, suffering, misery, or tough times.
Instead, you should anticipate displaying bright and happy paintings on your walls. You may also use gods' or even religious gurus' photographs or paintings to create a nice atmosphere in your home.
The House's Entrance
Because the sun rises in the east and is an unrivaled source of energy and light. The entry to your home should face east. If your entry is already built in a different direction, you may solve this problem by adding a huge window to the east.
Bedding in the South
The southwest corner is said to be the best place for a good sleep. As a result, the bed should be placed in the south, east, or west. North is a big NO-NO! Make your bedroom alive and natural by using browns and greens.
Maintaining a Clutter-Free Environment
You should constantly keep your home tidy and ordered. When your home is congested, the energy flow is greatly obstructed, resulting in mental disorientation.
Your home should be tidy, attractive, and large. You should get rid of any useless items in your home and rearrange all of the furniture so that you can move about comfortably and freely.
Doorway Angle
According to Vastu, all doors, notably the front door, should open at a 90-degree angle. Positive energy may easily and abundantly infiltrate your home in this manner. To avoid obstructing the doors, don't put anything behind them.
Be Particularly Careful About Your Kitchen
The optimal location for your kitchen is in the southeast corner, with your cooking facing east. Also, don't put your kitchen in front of the front door.
Colors Have Their "Say"
Colors should be carefully chosen for each area since they may have a big good or negative influence on your attitude. Vastu experts normally recommend blues, yellows, greens, and whites.
Moving into a new house is a dream, and when it comes to doing so, you must follow these tips for Vastu for a house for optimism and a good omen.
Conclusion
So these are some Vaastu tips for new house construction. Hope this article will make your house buying journey easier. Vastu is one of the first things which a person checks before buying a house.
We are one of the top real estate companies in Alwar, Rajasthan. At Propira, we also help people with property for rent in Alwar, buying and selling and industrial property, etc. If you want our help, you can contact us or request a call back . Our team will help you. And if our above discussed Vastu tips helped you, please share it with others. Thanks for reading.
More from propira: