Independent House vs Apartment: Which one is better? | Propira
Independent House vs Apartment: Which one is better? | Propira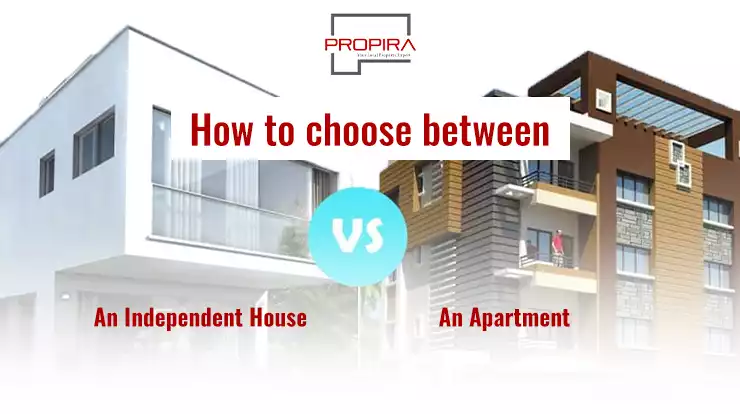 Apartment vs Independent House ? Which is better for you, their pros and cons, other factors.
New-age property buyers always find it difficult to choose between an independent house and an Apartment/Flat for living and investment purposes. Some people prefer living in their own house, but it should also be considered that the facilities one gets in an apartment are beyond any comparison.
Moreover, everyone can't live in an independent house mainly because of two main reasons:
Everyone cannot afford an independent house.

Job or Occupation changes don't allow people to invest in an independent house.
Both an independent house and an apartment are good options for living in a city. It is just a matter of convenience. This blog will help you to understand all the aspects (pros and cons) of investing in an independent house and an apartment.
Also read - 5 Things to Know While Purchasing Property in a New City
Independent House VS an Apartment
At the very beginning, It is important to understand the fundamental difference between both, their advantages, disadvantages, etc to rightly choose between an apartment and an independent house. Below we are presenting information that can help better understand whether one should invest; in an apartment or an independent house.
| | |
| --- | --- |
| Apartment/Flat | Independent House |
| Apartments are just living quarters within a big structure or building. | An Independent house is separately built on a plot of land. |
| They are meant to accommodate a big community. | An independent house can accommodate a wide range of families, small, joint, Big ones, etc. |
| The building's maintenance and upkeep are frequently handled by the RWA/Management. | The property's care and maintenance are overseen by the owner. |
Pros & Cons of Independent House and Apartment/Flat
Pros of Living in an Apartment/Flat
Given below are some of the pros or advantages of living in an Apartment:
Security -

Is probably the most prominent feature of such residences. Furthermore, living in this form of society involves some level of neighborly cooperation.

Easy Loans -

It is easier to get loans on apartments. Banks maintain a list of sanctioned projects. As it is mutually beneficial to real estate developers and banks.

Easy Maintenance -

Because the flats are smaller in area, it is easier to maintain and clean them.

Easy Saleability -

It is being reported in various

reports that

demand for apartments is rising very sharply(Especially 2 and 3 BHK). It makes it easily saleable.

Apartments are priced to fit your

budget

and

lifestyle

.

Modern amenities-

Due to the pooled resources, It is easy to avail these modern amenities like a playground, swimming pool, several courts, lush landscaping, a gym, and a variety of other recreational facilities are distinct attractions in apartments to invest in.

Fit for all Kinds of Families -

The apartments are suitable for couples, families with children, families with small children, and families with elderly parents.

Because the building is one of the finest possibilities for the sensible use of land, living in an apartment aids in protecting public space.
Cons of Living in an Apartments/Flats
Space problems:-
One of the most serious disadvantages of living in an apartment is less space.
It is very difficult to provide abundant space in an apartment project as builders have to manage everything in a limited space. Apartments with huge spaces are very expensive and not affordable for everyone.
Less ventilation facility:-
In the apartments, the family members get very little outside fresh air and sunlight. Many of the apartments even don't have a proper balcony, gallery, or little is outside the flat.
Pros of Living in an Independent House
Given below are some of the pros or advantages of living in an Independent house:
Bigger Space -

If you have little children, large and open spaces are essential for their development. Apart from that, if you are an animal lover you can keep pets as you wish.

Long-term Returns -

Independent houses offer long-term returns for investment purposes. It is because they have the price of land as well as construction over it.

No limitations and Rules -

Your family can enjoy themselves without having to adhere to the building's conditions and limitations.

Usually, the houses have more square footage.

It could also be partially rented out and partially occupied.

Complete Customization -

The landowner has the authority to build a residence according to his or her preferences. You can create your house in any manner that suits you. Whether it is house design, green spots in the outside spaces, etc.

It is simpler to carry out any remodeling because they eliminate procedures such as obtaining administrative approval.
(Note: However, because many homes are also enclosed sets, this depends on the location where the house is located.)
Cons of Living in an Independent House
Security -

It

is the main concern of the people living in an

independent property

. There's always a chance of thieving in your house if you are not living in a very secure area. It is not possible to hire a security guard for normal independent houses.

Hard Maintenance -

Another issue with independent houses is that they are really hard to manage. They are usually big and have lots of space and therefore require a lot of maintenance.

Buying an independent house

is not everyone's cup of tea.

Independent house requires

enough financial savings for safety

like Insurance, repairs, maintenance, property tax, and upgrades.

Buying a property is a crucial decision but with the information given above, you can understand various benefits and problems that one will have to face based on his/her investment choice. At Propira, we help people to buy property in Alwar. Decide what is best for you based on the facilities you want the most of the things you can't live without.
More Awesome Content From Propira