Understanding Covid 19's Impact on the Real Estate Sector
Understanding Covid 19's Impact on the Real Estate Sector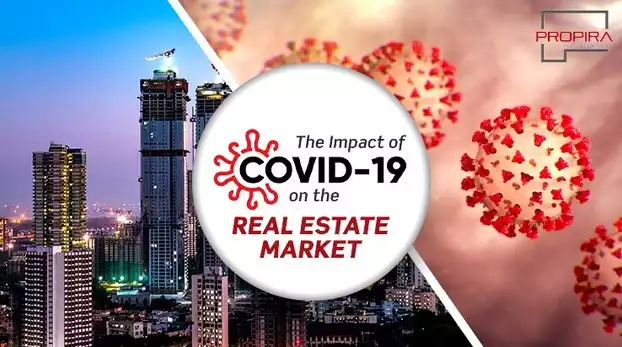 Learn about Multiple Impacts of Covid-19 on the Real Estate Market to Make Better Decisions
Introduction
It is evident that COVID-19 has brought uncertainty to the Indian economy at large. But In this article we will be looking at the disastrous impacts of Covid 19 specifically on the real estate sector. It also paved the way for some new trends like the digitization of work, the transformation of physical retail, and increased emphasis on ESG (Environmental, Social and Governance) considerations.
These trends will have a significant influence on the overall direction of real estate sector markets in the upcoming years. In this background, It becomes important to understand their longer-term impacts because they are going to be the key to future success.
How much impact has it had So far?
Prior to COVID-19, real estate base fundamentals were fairly strong: leasing activity, amount of available capital, and strong leverage ratios. Looking ahead, real estate executives are trying to anticipate and understand how quickly recovery will occur and what to do with available capital and potential opportunities thereafter.
Two sets of people are facing varying impacts:
a) Owners - Those Owners that are having longer-term leases in the palace are likely to feel lesser short term impact, depending upon liquidity capacity of the tenant.
b) Occupiers - Occupiers will be focused on liquidity needs and operating effectively with a remote and/or reduced workforce.
The restricted movement and cautious(careful)buyer sentiment translated into an unprecedented increase in the unsold inventory as well. As per a report by Liases Foras, lockdown due to COVID-19 surge caused a "surge in unsold inventory from over 15 quarters at the end of FY-20 to over 19 quarters towards the end of H1 FY21". The unsold stock got exacerbated by inadequate low sales in Q1 and dampened recovery in Q2 2020.
COVID-19 Impact on Commercial and Retail Real Estate
The impact of Covid-19 on commercial and retail real estate has been huge additionally, The idea of working from home has also harmed the growth of office space leasing firms.
Since Q4 of 2020-21 ended on a high note due to the government's vaccination push resulting in picking up momentum. But, the abrupt surge in the corona cases across the country February, 2021 onwards did not end well for the recovery cycle, and occupiers remained cautious in the Apr-Jun 2021 quarter.
Commercial Real Estate
Following points help us to gain an insights into the impacts commercial real estate is facing:
Net lease rates

have already dropped by

33%

in the last year.

Average commercial property values have dropped by

7-10%

.

The market for Flexi workspaces(shared workspace), which had risen in recent months,

has fallen again

. Some experts predicted that lease demand for flexible workspace will rise to 38 million square feet in the next year.
Last year, Blackstone Group, one of India's leading office space owners, stated that the COVID-19 outbreak has pushed back project completion dates, reduced demand, and lowered rental rates.
Read our article on - How to invest in Commercial Properties
Retail Real Estate
The fear of consumers visiting public malls and shops has harmed the retail sector in the second phase due to low footfall. According to statistics provided by Statista, Retail mobility has decreased by 55-60% across India, due to partial lockdowns and curfews across cities.
However, thanks to the optimism and confidence generated by the widespread and rapid vaccination campaign, the retail sector successfully recovered quickly, reaching 72 percent of pre-pandemic levels in July 2021.
Also read - Top 8 tips for Investment in the real estate market.
Impact of COVID on Property Prices
So yet, the impact of the pandemic's second wave hasn't translated into a significant price change in the housing market. Due to tight profit margins, developers are continuing to hold off on raising prices, as they did last year. While liquidity limitations may weaken prices over time, any influence on pricing in the short term is quite improbable.
Although, the real estate industry has gradually recovered since the Coronavirus-induced lockdown was removed. But It is mainly due to the lesson learned by people who realized the value of home ownership, and because of this second wave of COVID-19 had a minor impact on the industry.
The second wave did not result in a significant decline in real estate values, but it will have some domino repercussions. Not directly as a result of COVID-19, but rather as a result of the restrictions imposed on the general public's movements and the resulting delays in other support services like processing time needed for home loans paperwork, registration of sale deeds, or contacting sales and marketing personnel for more information about the project.
Impact on the Construction Industry and Migratory Workers
The negative impacts of Covid 19 not only impacted the real estate market. But it has also passed onto other linked industries that heavily relies on the building sector and suffered significant losses.
According to statistics provided by Statista, On an average, 250 small and medium-sized enterprises are directly tied to the real estate industry, including:
Aluminum panels

Steel bars

Construction machinery parts, and many others.
In 2020, all of these industries reported losses, as well as an increase in costs, which hampered sales even more.
Developers and manufacturers are more optimistic about 2021 since they are better prepared to deal with the issue. For medium- and large developers, the present situation may not be quite as concerning as it is for smaller ones. While the big companies are already taking adequate action on their properties, small developers and redevelopment projects wouldn't have adequate areas for labor camps.
How India Is tackling these Impacts?
Since the outbreak of Coronavirus pandemic on the planet in December of 2019, a lot has changed!! Businesses around the world came to a halt as countries took drastic measures to contain the pandemic, causing monetary agencies like IMF to reduce worldwide growth estimates, including India's.
The International Monetary Fund (IMF) claimed in its World Economic Outlook October 2020 report, headlined 'A Long and Difficult Ascent' that India's GDP will grow at a -10.3 percent pace in 2020, down -5.8 percent points from the agency's June estimate.
Following a 23.9 percent drop in GDP in the first quarter of FY21 compared to the same quarter the previous fiscal, global rating agencies S&P, Moody's, and Fitch forecast the Indian economy to decrease by 11.5 percent and 10.5 percent, respectively, in the current fiscal.
While the pandemic's negative effects are already being felt around the world, differing viewpoints are emerging on COVID-19's impact on the real estate sector. COVID-19 prompted the world's largest-ever work-from-home experiment, raising questions about the real significance of coworking spaces in a post-Corona world.
With various macroeconomic indicators indicating a favorable trend in September, we could be on the verge of a more durable recovery, and the forthcoming festival season will be crucial in deciding the sector's growth trajectory over the next twelve months.
Despite the fact that office space sale volumes in India surged by 27% year on year in 2019, reaching an all-time high of over 60 million sq ft, the virus attack is expected to derail India's commercial growth momentum.
Any optimistic predictions about its growth made before the global disaster have been retracted, as the government works to create plans to prevent businesses in general and the economy in particular from collapsing further, amid fears that the rupee will fall to a low of Rs 78 against the US dollar.
While the true degree of the damage is difficult to assess in a situation where every day counts, one thing is certain: India's real estate sector will experience short-term shocks as a result of the contagion.

Propira is a top real estate consultant and agency in Alwar, Rajasthan. We deal in buying , selling, renting of commercial, residential, agricultural properties in alwar.
We hope you have liked what you read!! Now it is time to hear from you.