Real estate for investment? Five tips to make the right choice
Real estate for investment? Five tips to make the right choice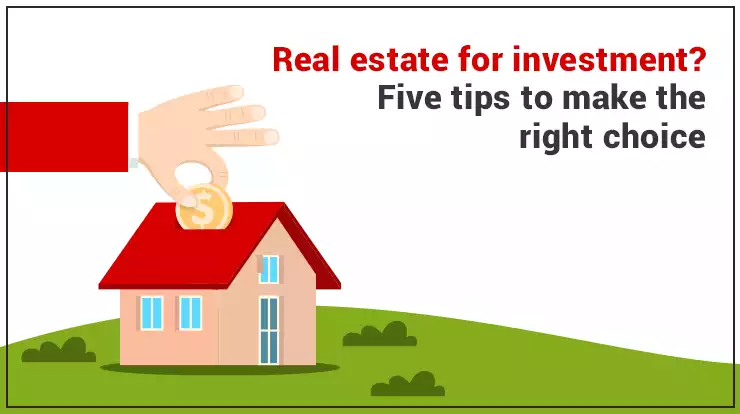 One of the best investment options, especially in the Indian subcontinent, is real estate. For several households, it is going to a financial investment plan compared to other sectors, including stocks and gold. You can make long-term benefits and the security of having a roof over by investing in the real estate sector as it is one of the most reliable and safest forms of investment. It is only a half battle won when you decide to buy a house. Many first-time investors find the process of investing daunting due to the high amount of money at stake and a plethora of ready-to-moving or upcoming projects in the market. There is a lot of paperwork and legal formalities involved. If you are planning to invest in the real estate sector here are a few tips to make the right choice:
Workaround a budget
It is a great idea to sit down with your family and make a budget before you begin your property hunt. The main factors you should focus on should include the surface area of the property, number of bedrooms, amenities required, and other features that directly impact your property's price. It is better to have clarity of the elements necessary instead of focusing on the real estate market and getting attracted by plenty of factors.
Check on the loan eligibility
You should check whether you are eligible for the loan or not before making real estate investment plans. Verify all the loan plans offered by several banks and financial institutions before finalizing any method of funding. It is vital to get a detailed report from the Credit Information Bureau India Pvt. Ltd to ensure you have a sufficient credit score. Ensure you take measures to enhance your credit score to get reasonable loan offers at minimal interest rates.
Invest in a good locality
The locality of the property plays a vital role in determining the potential ROI. It would be best if you chose a developing neighborhood to get the best out of your investment. Focus on prime factors, including amenities and facilities offered in the selected area. Besides, amenities also look for connectivity it provides to other parts of the city. The locality should also be surrounded by hospitals, schools, supermarkets, banks, and restaurants for a comfortable living.
Rely on a credible developer
With several options available today, finding a home can be a little stressful. You can shortlist specific options based on the developer's reputation and credibility to make your search easy if you should opt for a property from a well-established developer who is RERA certified. So you can get the guarantee that you have made the correct choice. Choose a developer whose projects meet your requirements, and the buyers recognize their facilities.
Thoroughly verify your property
After you have shortlisted the features based on all the factors mentioned above, ensure you test the property thoroughly. It is essential to perform a quality check of your own once you have received the bank's verification of the credibility of your property. From the full-proof layout of the building, construction quality to legal paperwork and authorization are the factors you need to verify that will either make or break the deal. It is advisable to keep a lawyer in the loop to keep track of all the transactions and legal formalities. The legal professional will both guide you and let you know if you have missed something.
Thus, keep these tips in mind when you are investing in the property as it is a one-time investment.