Five Colour Combinations That Can Be Ideal for Your Living Room
Five Colour Combinations That Can Be Ideal for Your Living Room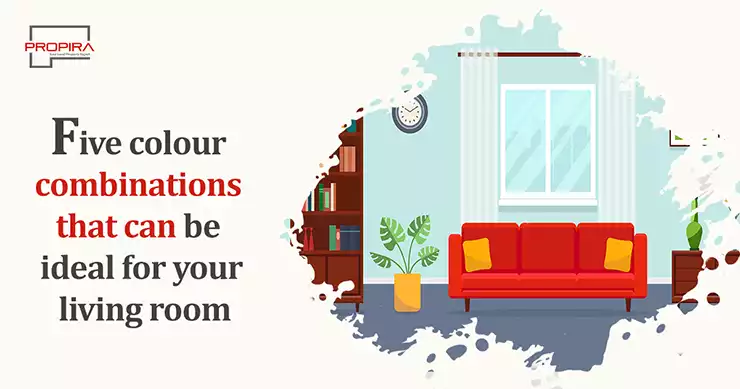 The living room remains one of the most crucial parts of the home for most homeowners. Ideally, the living room showcases the elegance of the entire house. One of the most challenging tasks for both the interior designers and homeowners is choosing the perfect décor theme for the living room. The living room unites three things in a house, including comfort, togetherness, and leisure. It is a space where one creates several memories and spends countless moments. So it won't be surprising that the paint colors of your living room will impact the overall mood. Depending on the unique personality of your house, your space can be either statement-making or soothing. It can either have an antique appeal or a contemporary appeal. Irrespective of the style, here are some gorgeous colors that can add beauty to your home:
Grey- Widely grey is used in the soft furnishings of a living room that includes several things like a sofa, curtains, and a thickly piled carpet. The cool tones of grey ideally communicate with the contemporary table with its frame and glass. Grey furnishings can be paired with a Persian blue backdrop that gives both a luxurious and classy feel. The standing lamp and wooden flooring offer coziness. Vice versa can also be done as you can pair dark furnishings with gray walls. Gray shade makes your space look vast and elegant. Thus it is one of the most popular living room colors.

Blue and white- It is believed that blue is super cool, and it brings everyone together. If you want your living room has both stabilizing and a calming effect on your home, then blue is your best bet. There are several shades of blue that can be paired with neutral tones. There is no pair better than blue and white. One of the most dramatic settings for the room is having a sapphire blue wall paired with crisp white accessories and sofa. The contemporary light fixture seals the deal effectively. Blue is a stylish choice if you have hardwood floors.

Beige- One of the go neutral shades for interior designers is beige. The dependable hue evokes the simplicity of raw fabrics. If you are someone who loves the minimalist look, then beige is perfect for you. The best design trend involves decorating your home with distinct shades of white. The scene looks stunning and classy with subtle beige walls. Beige is known as a timeless color.

Black- As black is not commonly used, color in a living room is what makes it unique. You can expect an unexpected drama by painting the walls of a living room black. Most attention is drawn by the architectural details in the living room. It is a well-known fact that furniture can pop against a dark backdrop. Black is an excellent choice for you if your living room gets a lot of sunlight as the black walls can temper the glare of the natural light.

Green- The green color is ideal for renewal and life; you can be assured to get the same fresh energies in your living room. It is one of the best colors for a living room as it echoes the hues from nature. Green walls will give you the splash of life if you lack space for a bevy of house plants. The same green can be both subtle and fresh. It is a perfect alternative for you if you don't like neutrals or find them annoying.
Thus these living room combinations are going to get your neighbors and acquaintances to gaze at your living room for some additional time.