Things to Know for Converting a Residential Property into PG
Things to Know for Converting a Residential Property into PG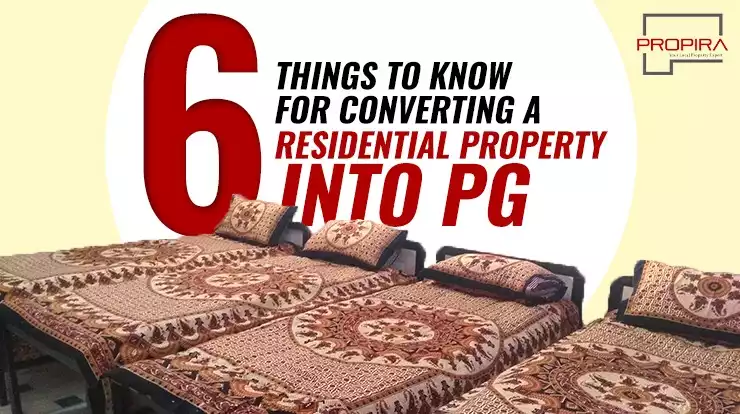 Building houses and turning them into a PG is becoming a good business in cities. Many people who live alone in huge houses provide PG services so that they can earn a good sum of money. This also saves them from the boredom of living alone. But living in a PG is very different from living in a rental property.
There are rules, regulations, and guidelines which are needed to be fulfilled if you want to turn your residential property into a PG.
Not knowing or not following these guidelines can cause serious legal trouble. This blog will be your lifesaver if you are looking forward to turning your residential property into a PG.
6 things you should know before converting your residential property into a PG
Is PG a commercial property?
Yes, PG is a commercial property. If you want to convert a residential property into a PG, then you must know that it will be considered a commercial property in the eyes of law. Following that fact, you also have to pay the bills and taxes at commercial rates.
What are the legal formalities for converting a residential property into a PG?
As said, a PG is a commercial property, and therefore, it needs all the authorization required to run it as a money-generating asset. You need to follow all legal formalities and norms.
To use a residential property as a commercial property, you need municipal authorities. Co-operative societies also take care of these matters, and therefore, you need their permission in writing to avoid any dispute.
What security measures are needed for converting a residential property into a PG?
To run a PG successfully, you need to take care of its security measures. Hiring a watchman is a must but not enough. You need to have 24/7 CCTV surveillance at your PG so that all entries and exits can be recorded. Also, be in touch with the civil authorities of your area for further security measures.
Remember, security is a very important factor of a good PG. Whether you are offering your services to girls or boys, security measures should be up to date.
Is it necessary to hire a marketing manager for converting a residential property into a PG?
Hiring professionals can be very beneficial for your PG business in many ways. They can help you to attract more clients and also to improve PG conditions for a better image. They know how to collect feedback and implement them in such a way so that you can run your PG smoothly.
What amenities are required for converting your home into a PG?
Providing PG services is not just about providing a room to strangers but providing proper living conditions. This includes the following services:
Cooked Food

Bed

Wardrobe

AC/Fan

Housekeeping

Wi-Fi

Air Conditioning

Laundry
And other basic facilities. As per the services, charges for living in a PG varies from one another. These are some of the requirements occupants usually look for. In short, you also need to hire staff for cleaning, cooking, and taking care of the PG.
What are the expenses of converting your home into a PG?
Running a PG can be a very good business but is surely not an easy one. There are two reasons behind that:
You need to maintain a good image and provide all the facilities that can attract an occupant.

You must have many occupants to meet all the liabilities.
PG can provide you with a good profit but will also impact your monthly bills. So all the expenses for running a PG depend on the number of occupants you have.
Knowing provided points can save you from serious legal obligations if you are planning to turn your residential property into a PG. If you already own and run a PG, then make sure you are taking care of all the points mentioned in this blog. Either provide all the mentioned services or drop the idea of starting a PG. You can rent your property if you want to earn some money and stay out of the hectic process