Bhiwadi-Neemrana Real Estate Investment Guide: Seizing the Next Big Opportunity
Bhiwadi-Neemrana Real Estate Investment Guide: Seizing the Next Big Opportunity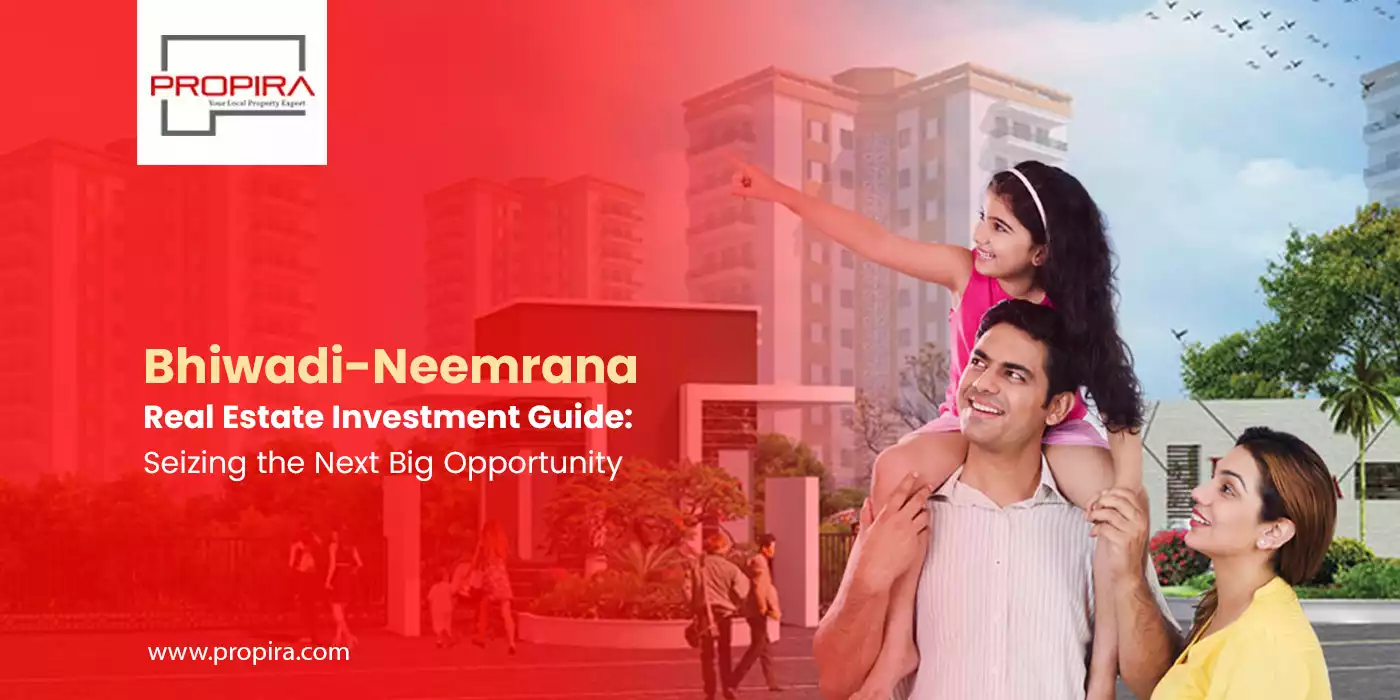 Why Bhiwadi-Neemrana is Becoming a Real Estate Hotspot
In the heart of the real estate boom, Bhiwadi and Neemrana are emerging as prime investment destinations. As a top-tier real estate agency, we specialize in helping you find the perfect property in Bhiwadi, catering to your unique needs and preferences. Whether you aspire to buy property in Bhiwadi, explore commercial and industrial prospects, or invest in upcoming projects, we have you covered.
Our expertise extends to the Bhiwadi residential projects, including affordable housing options, ensuring that you find a home that fits your budget without compromising on quality. The Bhiwadi real estate market is dynamic, and we pride ourselves on staying at the forefront of this evolution. Our commitment to your success extends beyond just property investment; we are dedicated to guiding you through the entire journey of Bhiwadi real estate development. With our in-depth knowledge and personalized service, we aim to make your experience not just seamless but also highly rewarding. Choose us as your trusted real estate partner, and together, we'll unlock the immense potential that Bhiwadi's property market offers.
Connectivity of Bhiwadi-Neemrana
When it comes to the real estate landscape, connectivity is the lifeline that breathes life into a region. In the dynamic and promising arena of Bhiwadi-Neemrana, connectivity is not just about roads and highways; it's the bridge to opportunities. The seamless connectivity of Bhiwadi-Neemrana to major cities like Delhi, Jaipur, and Gurgaon via the Delhi-Jaipur highway (NH-48) ensures that you're never too far from the hustle and bustle of urban life while enjoying the tranquility of these twin cities. But it doesn't stop there; the proposed Delhi-Mumbai Industrial Corridor (DMIC) and the Kundli-Manesar-Palwal (KMP) Expressway are set to elevate connectivity to a whole new level.
These ambitious projects promise to not only reduce travel time but also catalyze economic growth by attracting industries and businesses. And let's not forget the rail and air connectivity; the Rewari railway station and the upcoming Behror railway station ensure that you can reach your destination conveniently. For globetrotters, the Indira Gandhi International Airport in Delhi is just a stone's throw away. In Bhiwadi-Neemrana, connectivity isn't just about the present; it's about building a bridge to a future teeming with opportunities and growth.
Infrastructure in the area
Infrastructure plays a pivotal role in shaping the real estate landscape, and in Bhiwadi and Neemrana, it's the backbone of their rapid growth. The commitment to robust infrastructure development in these twin cities is evident in their well-planned roads, reliable power supply, and modern amenities. Well-constructed and maintained roads ensure smooth travel within and around the cities, making daily commutes hassle-free.
This convenience is a significant draw for both residents and businesses. Moreover, the region boasts a reliable power supply—a critical factor for industries and commercial spaces that require uninterrupted electricity. In a world where access to quality education and healthcare is paramount, Bhiwadi and Neemrana excel. These cities host a range of educational institutions and healthcare facilities, providing residents with easy access to top-notch services. Additionally, shopping complexes, entertainment options, and recreational areas are readily available, making life in Bhiwadi and Neemrana not just comfortable but also vibrant.
As real estate continues to flourish in these cities, the commitment to enhancing infrastructure ensures that they are well-equipped to meet the needs of their growing population and businesses, making them prime destinations for property investment.
Bhiwadi-Neemrana Industrial Hub
The Bhiwadi-Neemrana region has evolved into an industrial powerhouse, making it a compelling destination for both property investors and businesses. At the heart of this transformation is the Bhiwadi-Neemrana Industrial Hub, a dynamic ecosystem that attracts industries from various sectors. With a strategic location and a business-friendly environment, this hub has become a magnet for industrialists looking to establish their operations.
The key industries that thrive in this hub include manufacturing, automobile, pharmaceuticals, electronics, and more. The diversity of sectors ensures stability and long-term growth, making Bhiwadi-Neemrana an attractive proposition for investors. The industrial growth here is not just about creating jobs, although it certainly does that exceptionally well. It's about fostering economic development, increasing demand for real estate, and propelling the region into a new era of prosperity.
As the Bhiwadi-Neemrana Industrial Hub continues to expand, it triggers a ripple effect on the real estate market. Demand for commercial spaces, industrial properties, and residential complexes in the vicinity is on the rise. This presents a unique opportunity for property investors to capitalize on the symbiotic relationship between industrial growth and real estate development. Whether you are eyeing commercial property in Bhiwadi, industrial property in Bhiwadi, or residential projects in Neemrana, this vibrant industrial hub promises a fertile ground for your investments to flourish.
Real Estate Investment Opportunities
Real estate investment opportunities in Bhiwadi and Neemrana are nothing short of a gold rush for savvy investors. As a premier real estate agency, we understand that the choices can be overwhelming, but that's where our expertise shines. Whether you're looking to buy property in Bhiwadi, explore commercial or industrial prospects, or invest in upcoming projects, we've got you covered. The real estate market here is incredibly dynamic, with a wide array of options to suit every investor's needs.
One of the most promising avenues is the investment in plots. Several localities in Bhiwadi-Neemrana have emerged as prime destinations for plot investments, such as Alwar Bypass Road, Tapukara, and the Bhiwadi Industrial Area. Each of these localities offers unique advantages, from strategic locations to proximity to the industrial hub, making them attractive for investors seeking solid returns.

However, it's not just about plots. The region is witnessing a surge in upcoming projects.
Residential apartments, commercial complexes, and integrated townships are on the rise, promising modern amenities, well-designed spaces, and excellent connectivity. Whether you're an end-user looking for a dream home or an investor seeking substantial rental income, these projects offer compelling opportunities.
In the ever-evolving Bhiwadi and Neemrana real estate market, making the right investment choices is crucial. That's where our real estate experts step in. We keep a close eye on market trends, property values, and upcoming projects to ensure that your investments are not just secure but also highly rewarding. When it comes to real estate investment opportunities, trust us to guide you toward the path of prosperity.
Best Localities to Invest in Plots
When it comes to investing in plots in the Bhiwadi-Neemrana region, choosing the right locality can significantly impact the success of your investment. Let's dive into some of the best localities that stand out as prime options for plot investments:
1. Alwar Bypass Road: This locality is strategically positioned and offers excellent connectivity, making it a hotspot for plot investments. Its proximity to the industrial hub adds to its appeal, as it's often seen as a prime area for future development and growth. Investors looking for long-term appreciation often find Alwar Bypass Road an attractive choice.
2. Tapukara: As industrialization continues to grow in this area, there's a surge in demand for housing and commercial spaces. This makes Tapukara an excellent option for plot investments. The spillover effect of industrial development often leads to the growth of residential and commercial properties in the vicinity.
3. Bhiwadi Industrial Area: While it's primarily known as an industrial hub, it's also a real estate gem in its own right. The growth of industries here naturally leads to the demand for housing and commercial spaces, presenting a golden opportunity for plot investors. Additionally, the existing infrastructure and connectivity in this area contribute to its allure.
4. Neemrana: Neemrana is emerging as a promising destination for plot investments. With the advent of several industrial and commercial projects, the demand for residential plots has surged. Its proximity to the Delhi-Jaipur highway and the Delhi-Mumbai Industrial Corridor (DMIC) further enhance its investment potential.
5. Bhiwadi Extension: This area is witnessing rapid growth in terms of residential and commercial developments. Plot investments here offer the advantage of being part of a burgeoning community, with easy access to essential amenities and infrastructure.
Investing in plots in these localities can provide substantial returns as the Bhiwadi-Neemrana region continues to experience robust development and industrial growth. Whether you're considering these options for long-term appreciation, building your dream home, or future commercial endeavors, these localities offer exciting opportunities for property investors.
Upcoming Projects in Bhiwadi-Neemrana
In the dynamic real estate landscape of Bhiwadi-Neemrana, one of the most exciting aspects for property investors is the array of upcoming projects. These projects are not just bricks and mortar; they are the future of modern living and commercial opportunities. Bhiwadi-Neemrana is experiencing a surge in residential projects that cater to diverse preferences and budgets. From affordable housing initiatives to luxurious apartments, these upcoming residential projects offer a wide spectrum of choices for those looking to buy property in this region.
On the commercial front, Bhiwadi-Neemrana is rapidly evolving into an industrial and business hub. As a result, there is a growing demand for commercial spaces. Upcoming commercial projects in this region are designed to meet this demand, providing state-of-the-art facilities for businesses to thrive.
Additionally, integrated townships are on the rise, offering a holistic living experience with a focus on sustainability, green spaces, and modern amenities. These townships are not just places to live; they are communities that foster a high quality of life.
Investors keen on industrial property in Bhiwadi-Neemrana also have exciting prospects. With the region's strategic location and excellent connectivity, it's becoming a preferred destination for industries, leading to a surge in demand for industrial spaces.
The Bhiwadi-Neemrana region is witnessing a real estate renaissance, and the upcoming projects are at the forefront of this transformation. They present not just properties, but opportunities for a better, more prosperous future in this burgeoning real estate hotspot.
Conclusion
In conclusion, the Bhiwadi-Neemrana region is not just witnessing a real estate boom; it's shaping up to be an investment paradise. Whether you're seeking property in Bhiwadi or exploring the Neemrana real estate market, the opportunities are boundless. From residential projects that cater to every lifestyle and budget to commercial and industrial properties that promise lucrative returns, this region has it all.
What makes this even more enticing is the commitment to affordable housing in Bhiwadi, ensuring that the dream of homeownership is within reach for many. The Bhiwadi real estate market is not just about property investment; it's about fostering communities and creating sustainable living spaces.
At Propira.com, we understand the intricacies of this burgeoning real estate landscape. Our dedicated team of experts is well-versed in the nuances of property trends, market prices, and investment potential. We are not just a real estate agency; we are your partners in finding the perfect property, whether it's flats in Neemrana, commercial properties in Bhiwadi, or industrial spaces in this vibrant region.
As you embark on your real estate journey in Bhiwadi-Neemrana, trust Propira.com to be your guiding light. We don't just connect you with properties; we connect you with opportunities, communities, and a brighter future. Your dream property is just a click away with Propira.com, your premier destination for real estate excellence in this thriving region.