Avoid These 9 Mistakes When Selling Your Home
Avoid These 9 Mistakes When Selling Your Home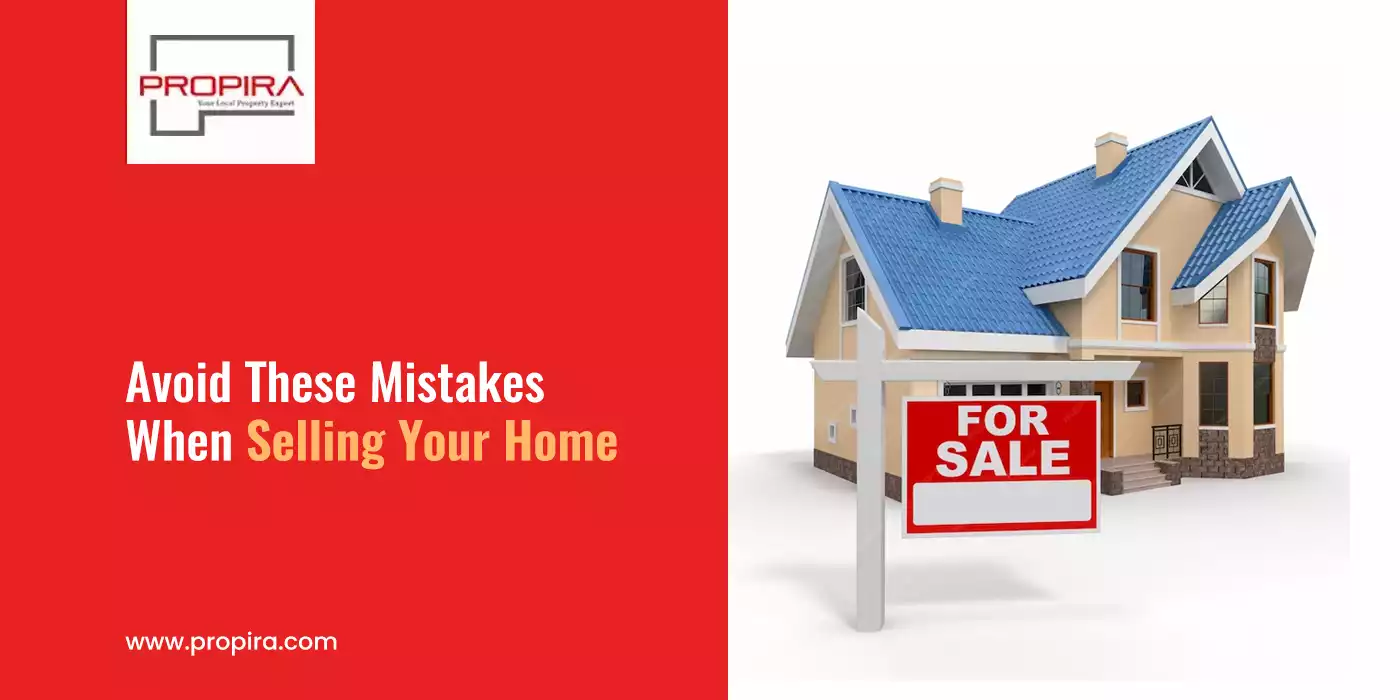 The percentage of people buying new houses to call homes or priced possessions has increased rapidly in this decade which serves as a comforting fact for those thinking of selling their house and moving to a new abode. However, home selling mistakes can really make it a bad experience for the sellers.
Often when people shift homes, they sell their old property but while selling the property, they do not keep some things in mind due to which they have to face losses right away or in the future. This crucial selling your home tips will guide you or anyone to get the best worth for the place that you once called home.
Selling a house successfully is not rocket science but not so easy either.
The Nine Not-Do's (Home Selling Pitfalls)
Overpricing
Often people sell their property at astronomical prices before giving their 2 cents about the buyer's purse, market conditions, or the actual worth, but you should avoid making this mistake. You can keep the scope of negotiation but it should not scare away the buyer, it should be a win-win situation for both. Apart from this, you should check the financial status of the buyer before selling the property. This makes your work easier and you will be able to hand over your property to the right hands.
While the selling price overpricing can look like a get-rich-quick scheme or smart thing to do in hindsight, the delays it can cause or the number of times it can force you to decrease the price, foregoing the reputation and worth of the home in people's eyes does really spell trouble.
Neglecting Curb Appeal
Curb appeal more or less concerns the neighborhood, the outdoor lighting, the porch, the garden, the paint - everything counts. A lot of people tend to forget this crucial real estate selling advice but it can turn out to be a major blunder as no matter how good the home is on the inside, if it is not aesthetically pleasing or appealing from the outside then nobody would want to even pay a visit.
Ignoring Repairs
Repairs are a part of life and home repair and maintenance are no different. Just as a person needs food and water, a house needs repairing time and again.
The shiny house that everybody needs does not come lightweight on the purse, but it's purely a seller's decision to decide whether he wants to spend to earn or earn less and regret.
If a seller is facing a budget crunch then the point of selling 'as is' or as new goes out of the picture, then just sell, sell, and sell. But if the person has time and money to proceed with the sale, then fix the house and charge the buyer a premium for the services you have done for their new house.

Poor Home Presentation
Generally, we do not want to 'splurge' on the outgoing property, be it repair, enhancements, or overall look & feel. You should think that the person buying a house wants a perfect house for himself so while preparing your home for sale, effective presentation becomes indispensable.
Paint, fixes, finishes, and feeling, could really provide a great return to your investment. Don't think about just selling while selling, sell like anybody who gets 10 feet anywhere near this property will always possess good fortune.
Inadequate Marketing
Billboards, newspaper ads, word of mouth, posters, banners, radio ads, social media ads, everything is important. The investment you put there will definitely fetch you a good amount of buyers, hence the leverage or upper hand for negotiations.
Effective home marketing happens when people with money to buy a house, people who are planning to buy a house, and people who are dreaming of buying a house all talk about your piece of brick and mortar with equal admiration.
The home staging tips focus really on getting the home into the eyes of the people like a celebrity vying for attention but couldn't care less about attention at the same time.
Lack of Disclosure
When selling a house, the seller makes the mistake of lack of disclosure, you should give details about Vastu, the deaths in the home, susceptibility to natural disasters, build quality, pipe leaks, repairs needed, broken windows, loose fittings, etc. The most common of home selling mistakes is the lack of disclosure wherein people feel that ethics can take a backseat and after selling a home what the buyer will be technically able to do about it.
This wayward attitude creates a strained relationship, bad reputation, guilt, and chances of the buyer finding out by himself before actually making the deal. And if the buyer does find out, then it hurts their confidence in you and whatever good things or truths you have said so far, 98% of the time the deal gets called off, which can be avoided if the buyer was told firsthand and his expectations had been managed then and there.
Honesty is truly rewarding here as everyone knows that a house is not always perfect, it's the little imperfections and people's ability to accept them that make the home perfect.
Timing the Real Estate Market
The right timing is a frame of mind, when you look from the perspective of a buyer, dealer, or seller, everybody has kept a deadline to make that deal and pray that the tide is in their favor.
It doesn't always work like that
Buyers can pay an extra price,
The seller can take way less than the market rate
Dealer can really cut down his percentage
All because of the need and interest.
So the timing is more or less about the need for money when it comes to the seller's POV, and if there is no immediate need for funds, then taking time to sell and waiting for market rates to reach a comfortable high does not sound like a bad plan.
Not Hiring an Agent
The benefits of hiring an agent are vast - fair value, a list of prospective buyers, deciding the right time to sell, showcasing the home to prospects, sales experience, paperwork, business knowledge, and really a helping hand in this uphill task.
The top selling your home tips come from the decades of experience a broker possesses which can really help expedite the process in the right direction. So don't fret about the commission, look at the overall benefits you will get.
Emotional Attachment
Perhaps the most common home-selling mistakes;
A home is more memories than bricks and mortar,
More feeling than warmth and landscape,
Critical to existence and social status than fast cars and good clothes
But right now you are just selling, so sell it and don't make a fuss about it. Gone are the days when people paid interest toward the story behind a home, they have heard it countless times, so spare them for this time.
Talk about the home from a sales POV, not a baby POV, you are selling something so just focus on selling it, not about how unhappy you will be once it is gone.
Skipping Pre-inspection

You know your house, but not everything that affects the selling process, and opting out of pre-inspection by a realtor will prove costly to you.
You will not know if your house is worth more than you expect
You will not know what needs an immediate fix and what can be avoided
You will not know if you should just get done with it or can afford to be patient based on the house's condition
You will miss out on the verified tag by a realtor
You will miss out on buyer's confidence
The benefits of hiring an agent, and that too a good one go beyond just the inspection.
Poor Negotiation Skills
Yes is not the go-to answer
Too many followups make you look desperate
Uncalled passive aggression and stern behavior can really jeopardize the deal
Buyers have a lot of options to choose from and you will definitely get a good number of buyers if your house is worth it; so negotiate wisely, not like an amateur thinking that this can be the end of the world.
Rushing the Process
The most common real estate selling advice is you need to know when to go for the kill and when to let the prey come to you.
Put yourself in the shoes of your buyer, think about how you can make a lasting impression without looking desperate, and go from there.
Conclusion
If you have made it through the article, congratulations you are 68% less likely to make any of these home selling pitfalls.
Think about the above selling your home tips and mistakes that can really cause all the difference, starting from selling price overpricing to home repair and maintenance to home staging tips to effective home marketing to timing the real estate market to benefits of hiring an agent, to preparing your home for sale to selling a house successfully, everything counts.